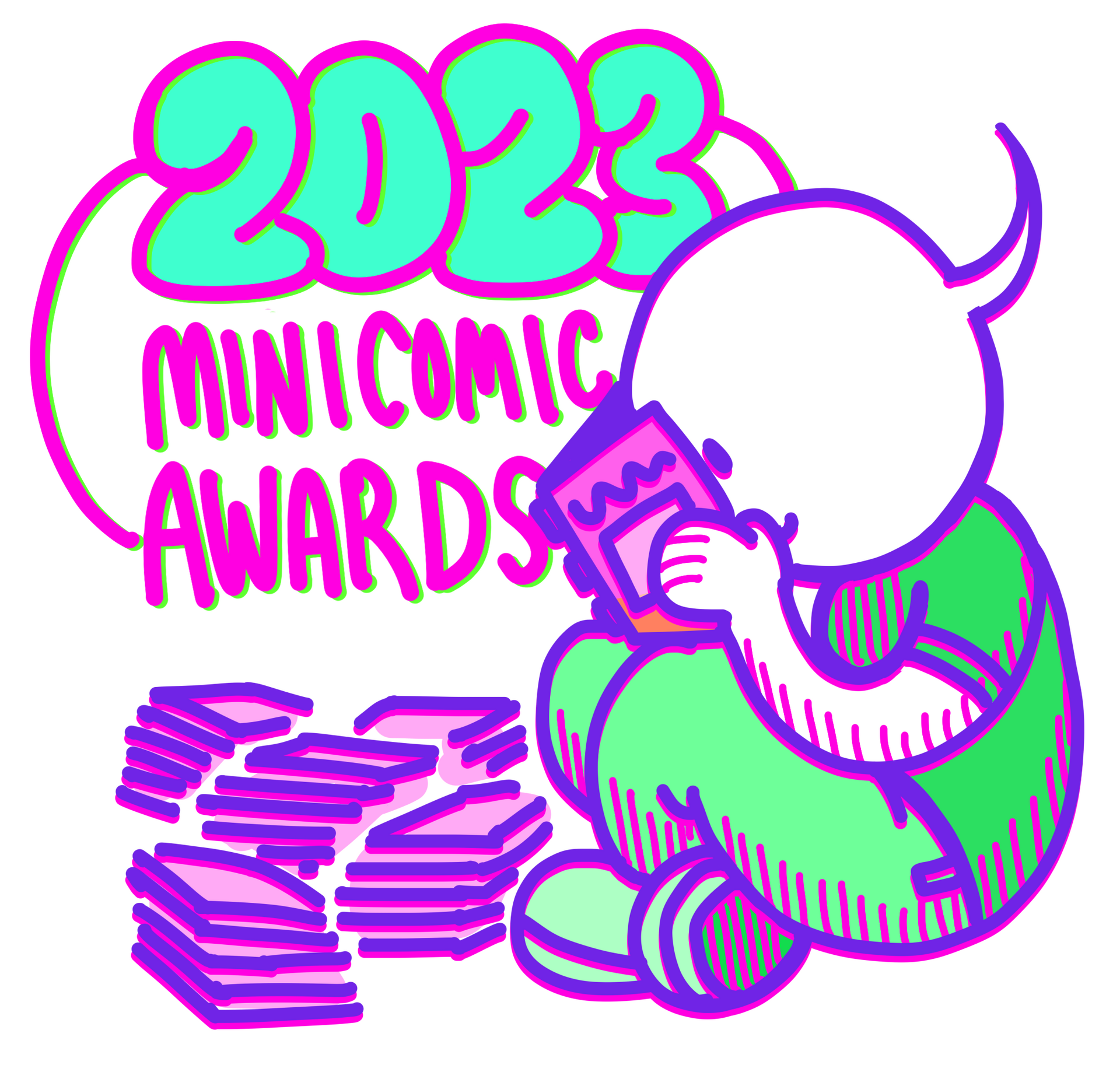 The Minicomic Awards is an annual virtual showcase that spotlights the unique, challenging, yet under-recognized work in this short form medium and is hosted by Leslie Hung and Sloane Leong.The Minicomics Awards is now hosted by the Cartoonist Cooperative!
About
For most cartoonists, minicomics are the form in which they begin to develop their storytelling skills and also the place they return to experiment and push their voices, and the medium, further. The fact of their accessibility also means we get a bounty of incredibly unique work across a wide range of genres and from a variety of marginalized perspectives.With that in mind, Sloane Leong and Leslie Hung wanted to find a way to spotlight some of the many minicomics being made and we decided the best way to do this was to host a minicomic award show! You can see past winners here.We're excited to continue spotlighting some amazing, under-the-radar work and hopefully encourage more people to make minicomics!
2023 WINNERS
Guest Judges: Yuko Ota and Ananth Hirsh
Watch the 2023 award livestream below or read a recap of the winners, runners-up and our comments at Comicsbeat.
The 2023 awards were sponsored by Shing Yin Khor, Erica Schultz, Steve Lieber, an anonymous donor, Bulgilhan Press, Tommy Rodricks & Leslie Hung, Emily Carroll, Kris Mukai, Jam, Andrea from White Squirrel, Yuko Ota & Anath Hirsh, Silver Sprocket, Sloane Leong, and David Brothers. Winners with print editions of their minicomic will also be featured at Wakeup Comics in Nashville, TN. Thanks to those sponsors, the award for each winner was $1000!
2022 WINNERS
Guest Judge: Kris Mukai
Watch the 2022 award livestream below or read a write-up of all the runner-ups and winners at WWAC!
The 2022 awards were sponsored by Steve Lieber, Zach Clemente, Kris Mukai, Casey Lucas, Nicolette Bocalon, MK Reed, Dick Blick and Portland comic shop Books With Pictures where the winners' comics will be available in store or online! Thanks to those sponsors, the award for each winner was $400!
Submission Guidelines
The submission period is now closed. Results will be shared March 2023. More details to come...
Submission Guidelines
- Please submit minicomics self-published in 2022.
- Minicomics should be 32 pages or less.
- Multiple submissions welcome.
- Anyone in the world is welcome to submit but the judges can only read English. We'll do our best if your work is in another language!
- No fan comics or work that features IP not your own; original work only.
- Sections of ongoing or serialized work are welcome as long as what you submit to us is 32 pages or less.Submissions are open from January 1st to February 1st, 2023.Award Categories
- Autobio/Nonfiction
- Horror
- Scifi
- Fantasy
- RomanceNote: There are no content restrictions, if you'd like to give us a content note, feel free.Submit your work by emailing saltandhoneypod AT gmail or by using the form below. Please include the following in your message:- Subject Line: Minicomic Awards + (One Category You're Submitting To)
- Names of the Creator/s (let us know if you're submitting for someone else)
- The Title of The Comic
- Date of Publication
- A self-hosted link to a PDF of the comic on Dropbox, Google Drive, etc. (label it with your name/title; no attachments and no links to your shops to download. Entries without a direct link to a PDF will be rejected.)
- If it's online, include the URL